Wednesday, November 16th, 2011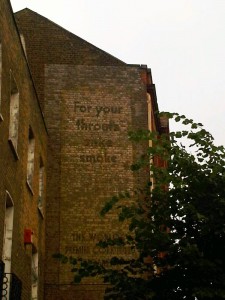 Spotted this curious old advertising sign in Brixton Road, London, today. It's just across the road from Workspace's new Kennington Park HQ. Here we're working with office refurb experts Faithdean plc to transform the interiors with frosted window vinyls and digital wallpaper, plus create and implement the wayfinding.
Looks like the sign – and its disturbing message – are about to give up the ghost. Just as many of the fans of this brand of cigarette did. (A little detective work shows that it was Craven A.)
You'll find a lot more old hand-painted signs at The History of Advertising Trust.
And if you need hand-painting, window and wall graphics in vinyl, wallpaper designed and made to measure or wayfinding for your own interiors or signage project, give Glyphics a call on 020 7739 7818
Posted by Sign man, in Signs
Comments Off